On August 17, Feng Qi, the head of the Entry and Exit Administration Section of Shaoxing Yuecheng Public Security Bureau, and her colleague Shen Ying, came to ZYU to grant permanent residency to Kim Nam Hyun, a Korean teacher working at ZYU. This event was joined by ZYU vice president Ge Jinling and director of the International Cooperation & Communication Department Wang Jin..

Permanent residency in China is also known as the Chinese Green Card. Kim Nam Hyun is the first foreign expert at ZYU who obtained it. She has been living in China for 16 years and has helped to produce many excellent students. Thanks to Kim Nam Hyun's tremendous contributions to Shaoxing as well as Zhejiang, Zhejiang Province and Shaoxing city honored her with West Lake Friendship Prize and Shaoxing Honorary Citizenship.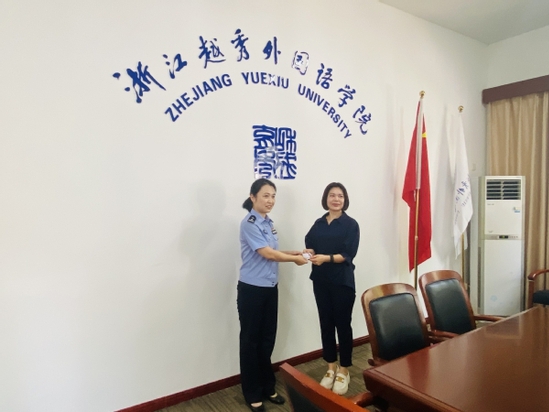 Kim Nam Hyun was very happy after she heard she got the approval for permanent residence. She expressed her gratitude to the Entry and Exit Administration and ZYU. "I will keep doing my part for the international development of Shaoxing" Kim Nam Hyun said.